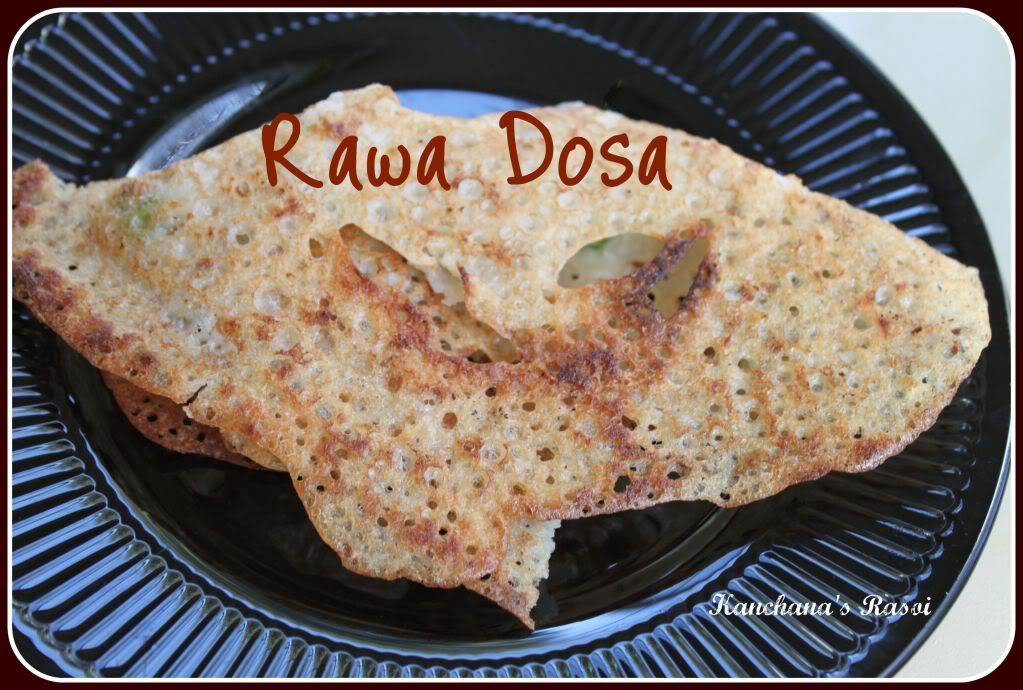 This is a signature recipe of my mom who learnt the secret to a crispy golden rawa dosa from her uncle. As the story goes, whenever she visited home from her hostel during her college years, her mama would try to get her to eat some idlis and she just wouldn't go for it knowing that there is always a dosa option available. Turns out, he was so persistent on getting her to appreciate the sheer deliciousness of piping hot spongy soft idlis that he would not let her nudge him into making dosas until she finished all her idlis...he would send her on errands, make her go chat with everyone on the block, give her hostel life updates to her grandma and after every errand, he would make her eat an idli. My mom asked him why he is making her do all these silly things to get a meal and he said..."Appo thaan unakku pasikkum...nalla pasicha thaan nee idli chapudivai!".

Translated as: "Only then will you get hungry enough to give idlis a fair shot!"

Even today my mother gets super nostalgic when she talks about her childhood growing up with her parents, uncles and aunts and a dozen cousins in the same block. Her uncles were in the restaurant business and she always got her special snacks delivered home specially marked with her name in all corners of the packet as if to say..."Nobody else touch it!" ...and of course she also had some marked for her in the packets that came for everybody else! Now I know the source of the "I gotta be Pampered" gene in me. This post is dedicated to my mom and our super amazing Radhakrishnan Thatha (her uncle)...We totally cherish your rawa dosa recipe!!

Ingredients



| Main | Spices/Tadka | Generic |
| --- | --- | --- |
| 3 cups Rice Flour | 1 tbsp Jeera | Salt |
| 2 cups Rawa | 1 pinch Hing | Oil |
| 1.5 cups Maida | 3-4 Green Chillies | |
Method
Blend in all the flours with about 6-8 cups of water and beat it until completely lump-free.
Finely chop the chillies and add it into the batter.
Add the jeera, hing and salt to taste.
Cover the batter and let it sit for at least an hour.
Heat a tawa and smear 2-3 drops of oil on it.
Gently pour 2-3 ladles of batter around the tawa into a thin dosa. Do not spread the batter with the ladle on the tawa.
Tilt the tawa if needed to spead the batter.
Spray a tsp of oil on the dosa and let it cook for about a minute and a half on medium high flame.
Turn and cook the other side.
Remove when crisp and golden and serve hot with sambar, chutney or gothsu….