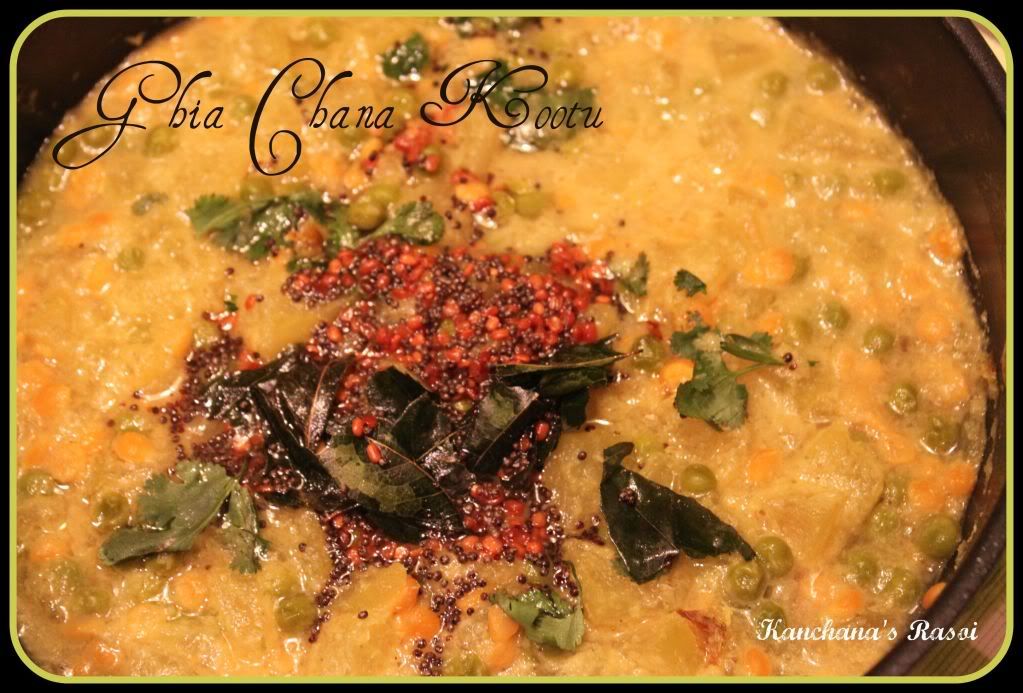 Ingredients
| Main | Spices | Tadka | Generic |
| --- | --- | --- | --- |
| 1 medium Bottle Gourd | 1 pinch Turmeric | 1 tsp Mustard Seeds | Oil |
| 1 cup Chana Dal | 2 tbsp Grated Coconut | 3 tsp Jeera | Ghee |
| | 4-6 Dry Red Chillies | 1 tsp Urad Dal | Salt |
| | 1 tbsp Rice flour | 1 tbsp grated Ginger | |
| | | 1 pinch Hing | |
| | | 4-6 Curry leaves | |
| | | Fresh Dhania | |
Method
Peel, wash and cut the Ghia into 1-inch cubes.
Pressure cook the Ghia and the Chana Dal with a pinch of turmeric and some salt in 3 cups of water for about 1-2 whistles.
In a pan, add a tsp of oil and roast 2 tsp Jeera.
Add the dry red chillies and roast until medium dark.
Grind this into a fine paste along with the coconut and rice flour and 1/2 a cup of water.
Add about 2-3 tsp of ghee to the pan and splutter the mustard seeds in it.
Add a tsp of Jeera, Urad Dal, Hing, Curry leaves and grated ginger.
Cook until golden brown and add the coconut paste to this tadka. Cook for a minute or two until the coconut paste starts to boil.
Add the Ghia and Chana Dal along with its water to this and boil for a few minutes.
Season with fresh Dhania and serve.
We can also add peas and carrots to this kootu to make it more colourful.
Notes: This kootu can also be made with white pumpkin instead of ghia.