Ingredients
| Main | Spices/Tadka | Generic |
| --- | --- | --- |
| 1 cup/can Garbanzo Beans | 1 pinch Turmeric | Ghee |
| 1 large Eggplant | 1 tbsp Sambar powder | Salt |
| 1 cup Tur Dal | 1 tbsp Vathal Kuzhambu Powder | |
| | 1 tbsp Tamarind Paste | |
| | 1 tsp Jaggery | |
| | 1 tsp Mustard Seeds | |
| | 1 tsp Jeera | |
| | 1 tsp Urad Dal | |
| | 1 pinch Hing | |
| | 4-6 Curry Leaves | |
| | 1 tbsp Grated Coconut | |
| | Fresh Dhania | |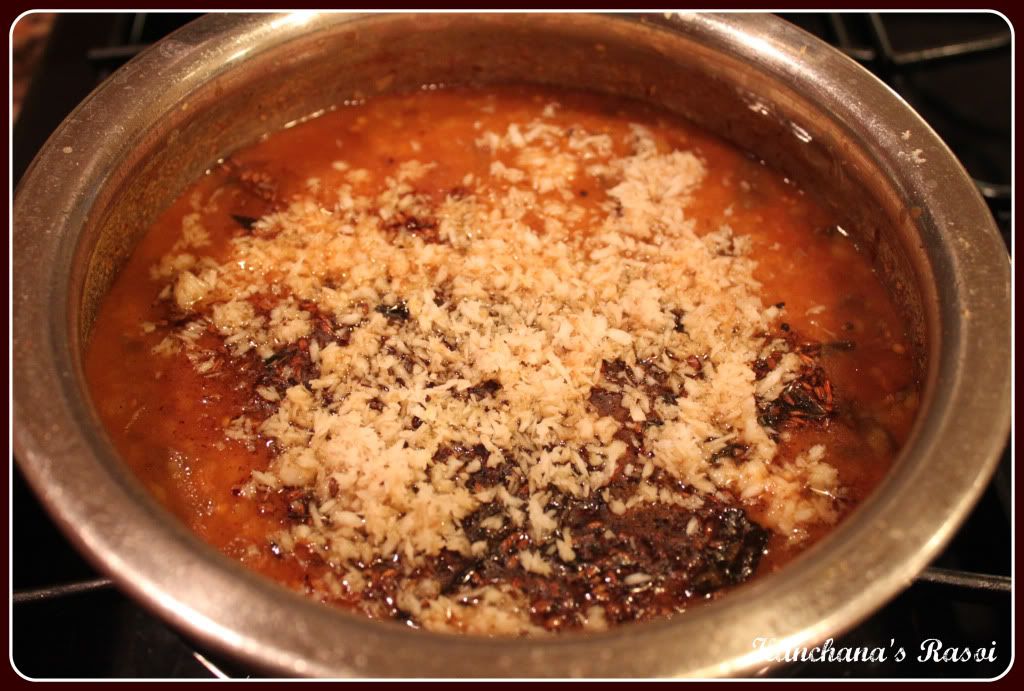 Method
Pressure cook the Tur Dal and mash well.
Chop the eggplant into 1/2 inch cubes.
We can use either a can of Garbanzo beans or soak 1 cup of dried beans over night and pressure cook the beans for about three whistles.
If using fresh tamarind, dissolve the a lemon size ball of tamarind about 4-5 cups of water.
If using ready-made paste, dissolve the tamarind paste in 4-5 cups water.
In a pot, add the beans, eggplant and tamarind water.
Add the sambar powder, vathakuzhambu powder, turmeric and salt and bring to a boil.
After boiling for 3-4 minutes, set on a simmer for about 12-15 minutes until the beans and eggplant are cooked soft and tender.
Add the mashed tur dal, mix well and continue to simmer.
In a skillet, add 2 tsp ghee and let the mustard seeds splutter in it.
Add jeera urad dal, hing, curry leaves and roast until medium dark. Switch off the stove and add the grated coconut and saute for 1/2 a minute.
Add this tadka to the simmering pot and switch off the stove.
Season with fresh Dhania and serve.
Notes:
Eggplant can also be substituted for raw plantains in this recipe.
Also, Garbanzo beans can be substituted with Red Chori.