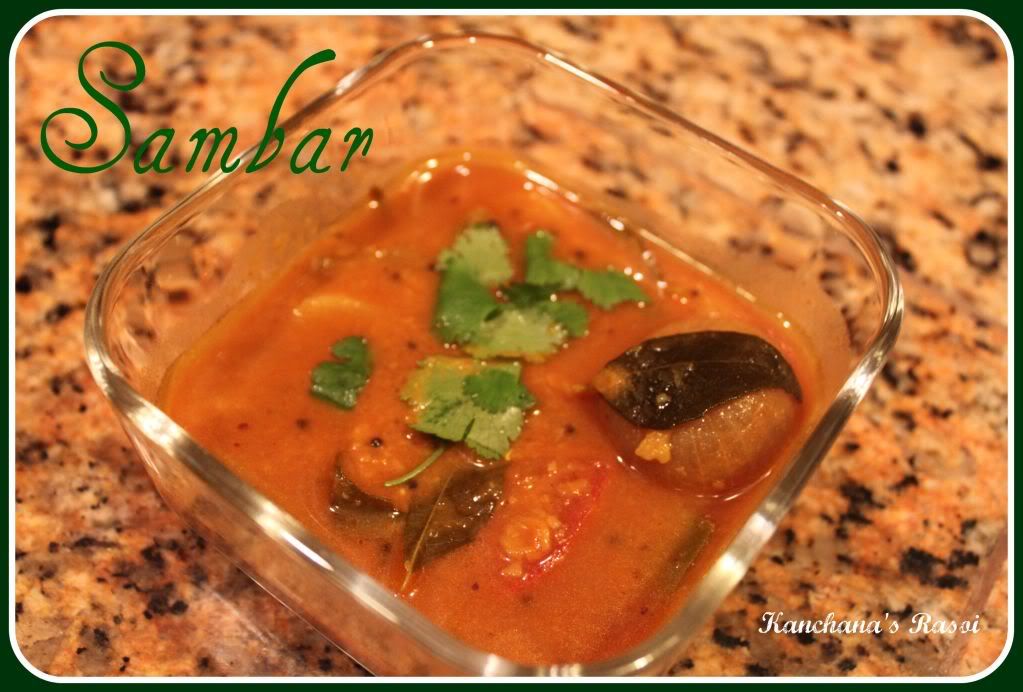 Ingredients
| Main | Spices/Tadka | Generic |
| --- | --- | --- |
| 1 cup Capsicum | 1 tsp Methi Seeds | Ghee |
| 1 cup Tomato | 1 tsp Mustard Seeds | Salt |
| 1 cup Squash | 3-4 Curry Leaves | |
| 1 cup Tur Dal | 1 pinch Hing | |
| | 1 pinch Turmeric | |
| | 1 tbsp Sambar Powder | |
| | Tamarind | |
| | 1 tsp Jaggery | |
| | Fresh Dhania | |
Method
Pressure cook the Tur Dal until soft and mushy.
Chop the squash, tomato, bell pepper into 1/2 inch cubes.
Take a concentrated extract of the tamarind in about 4 cups of water.
In a thick bottom pan, add 2-3 tsp of ghee and mustard seeds.
Once it splutters, add methi seeds, hing and curry leaves.
Once the methi seeds are lightly browned, add the vegetables and saute.
Cook until the vegetables are about 1/2 cooked.
Add the tamarind water, jaggery, turmeric, sambar powder and salt.
Bring to a boil and simmer for about 10-12 minutes.
Add the mashed tur dal and boil again for a minute or two.
Season with Dhania and serve.
Notes:
This sambar can be prepared with any vegetable like Banana Blossom, Bhindi, Baingan, Raddish, White Pumpkin, Pearl Onions…