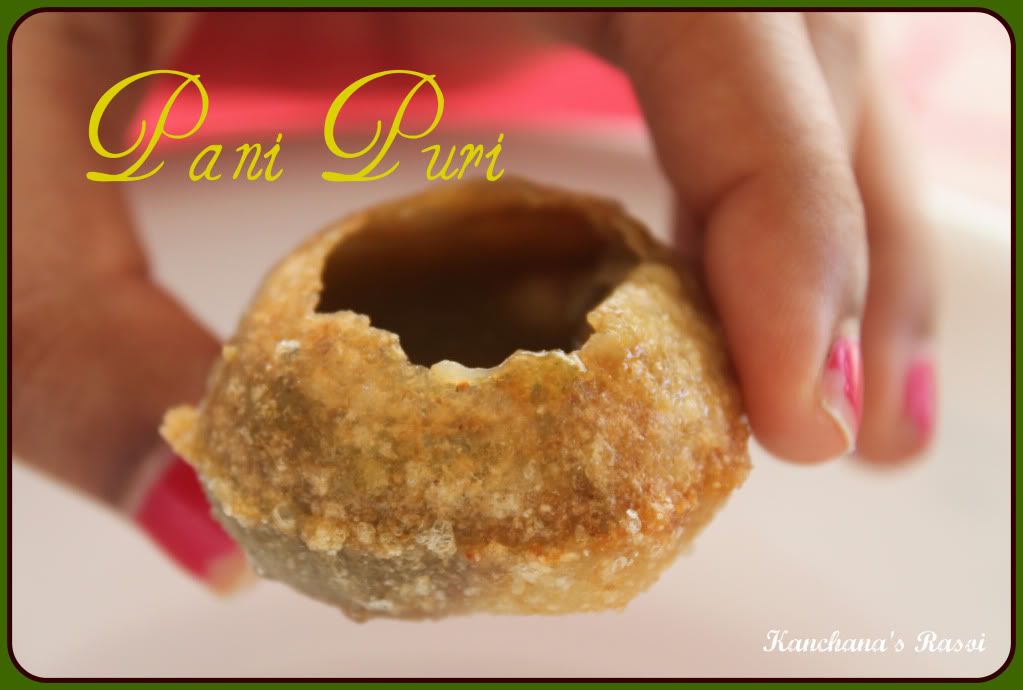 Ingredients for Pani and Filling


| Main | Spices |
| --- | --- |
| 1/2 bunch Dhania | 1 tbsp Pani Puri Masala |
| 1 bunch Mint | 1 tsp Chat Masala |
| 1 medium Potato | 1/2 tsp Black Salt |
| Tamarind | 8-10 Green Chillies |
| Boondi | 1 tbsp Jeera Powder |
| 1 can Garbanzo Beans | Salt |
| OR | |
| 1 cup Yellow Watana | |
| Dhania Chutney | |
| Tamarind Date Chutney | |
| Puris | |
Ingredients for making puris:
| Main | Spices/Tadka | Generic |
| --- | --- | --- |
| 2 cups Sooji | 1 pinch Chat Masala | Oil |
| 1 tbsp Rice Flour | | Salt |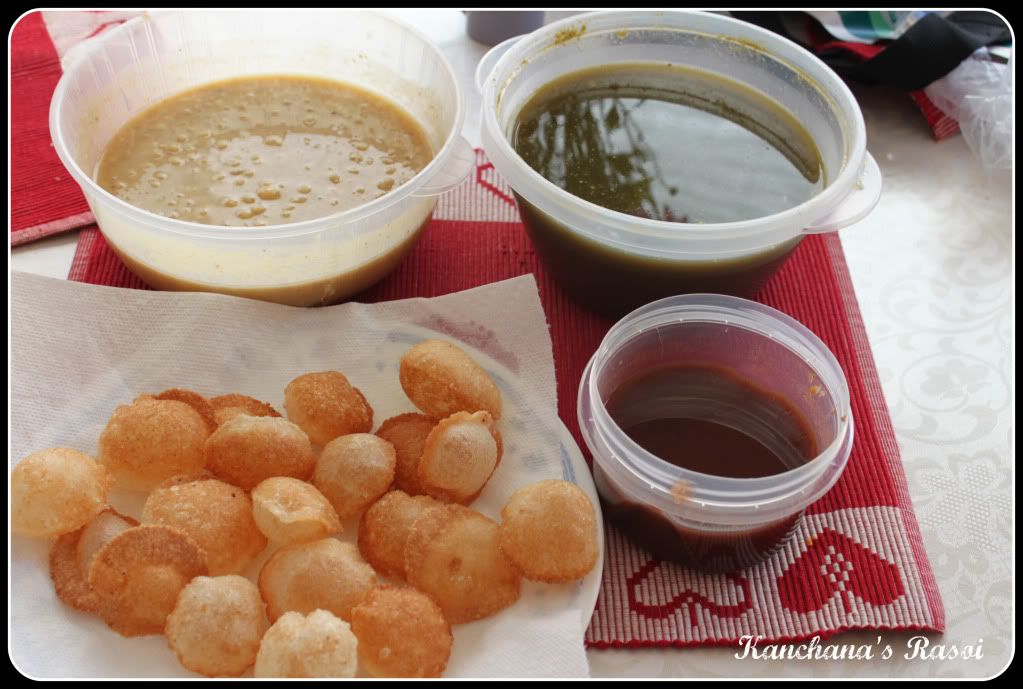 Method
For the Puri-->
Blend the sooji, rice flour, salt to taste and chat masala with as litle water as possible and knead into a stiff dough.
Let it sit covered for about 30 mins.
Heat a roti maker to just warm setting.
Pinch 4-5 tiny balls of the dough and press lightly.
Pick up the lid quickly and remove the flattened puris immediately.
Make as many flat puris as needed and set aside.
Heat oil in a kadhai and wait until it gets really hot.
Deep fry the flattened puris and drain on a paper towel.
Keep in an airtight container.

For the Pani -->
Thoroughly wash the leaves in running water and soak in cold water for 15 minutes.
Grind them along with the green chillies and 2 cups water into a very very fine paste.
If using fresh tamarind, take a lemon sized ball and extract its essence in about 6-8cups of water.
If using Tamicon paste, dissolve about 1 tbsp in 6-8 cups of water.
Add all the spices to the tamarind water and boil it for a few minutes.
Let this cool completely for 30 minutes or so.
Add in the dhania pudina and chilli paste to this water and blend well.
To serve immediately, add a few ice cubes or chill in the fridge for a few hours before serving.

For Puri filling -->
Boil and mash the potato.
If using Yellow Watana, it needs to be soaked for 8-10 hrs before use.
Pressure cook the garbanzo beans/Yellow Watana in a cup of water for at least 5 whistles.
Lightly toss together the potato and beans and season with black salt and chat masala.
Just before serving, take a cup of boondi and pour 1-2 tbsp of Spicy pani on it.

To Assemple -->
Tap one side of the puri lightly to make an opening.
Fill in a little potato/beans mix
Top with a little Dhania and Tamarind-Date chutney, scoop some spicy Pani and serve.