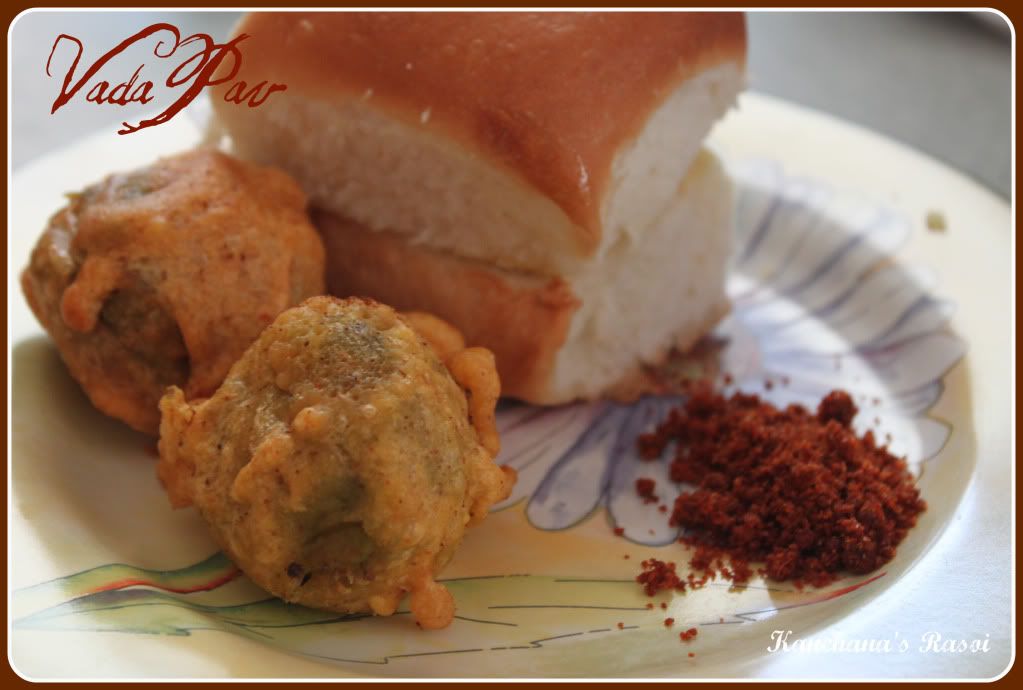 Ingredients

| Main | Spices | Generic |
| --- | --- | --- |
| 4 medium Potatoes | 2 tsp Mustard Seeds | Oil |
| 1 small Onion | 1 tbsp Grated Ginger | Salt |
| 1 cup Fresh Dhania | 1 tbsp Minced Garlic | |
| 2 cups Chickpea flour (Besan) | 6-8 Green Chillies | |
| Ladi Pav | 6-8 curry Leaves | |
| Dhania Chutney | 1 pinch Hing | |
| Tamarind Date Chutney | 1 pinch Turmeric | |
| Vada Pav Masala | 1 pinch Red Chilli powder | |
Method
Pressure cook the potatoes with skin for about 3-4 whistles.
Finely chop the onions.
Grind the green chillies and Dhania with 4 tbsp water into a thick smooth paste.
In a skillet, heat 2-3 tsp of Oil and splutter the mustard seeds.
Add the Hing, Turmeric, Curry leaves, ginger and garlic and saute for 2-3 minutes on medium flame until the raw smell disappears.
Add the onions and cook until translucent.
Add the Dhania /Green chilli paste and cook for another 2-3 minutes.
Remove the skin off the potatoes and cool completely.
Blend in the Green masala with the potatoes, add salt and mash well until evenly mixed.
Make lime sized balls of the mashed potatoes and set aside.
Add a pinch of salt and red chilli powder to the chickpea flour.
Make a medium thick paste of the chickpea flour along with water and blend well to remove any lumps.
Heat oil in a deep wok for frying the vadas.
Once the oil is well heated, dip each vada in the flour paste until well coated and drop them slowly in the oil.
Take care not to splash any hot oil on the fingers.
Drop as many vadas as the wok can take without crowding.
Let them fry for at least 1/2 a minute before turning them so they do not break.
Once they are fried to a golden brown, remove them and drain on a paper towel.
To assemble the vada pav, slit the pav open from one side.
Apply Dhania chutney, Tamarind Date chutney and Vada pav masala on the bottom of one side.
Set one vada in the center, top with some finely chopped onions, close with the other side.
Gently press the top a little and serve.