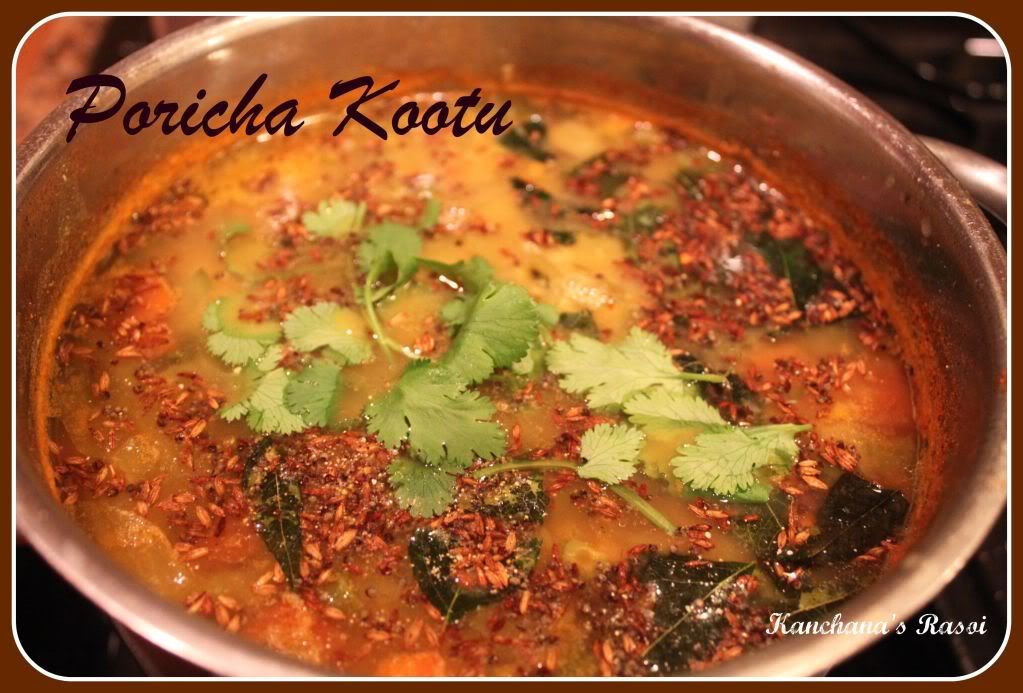 Ingredients

| Main | Spices | Generic |
| --- | --- | --- |
| 1/2 cup Peas | 1 tsp Mustard Seeds | Ghee |
| 1/2 cup Potatoes | 2 tsp Jeera | Salt |
| 1/2 cup Carrots | 2 tsp Urad Dal | |
| 1/2 cup Beans | 1 tbsp Grated Ginger | |
| 1/2 cup Eggplant | 4-6 Curry leaves | |
| 1/2 cup Yam | 1 pinch Hing | |
| 1 cup Spinach | 1 tsp Turmeric | |
| 1 cup Split Moong Dal | 1 tbsp Vethakuzhambu Powder | |
| 1/2 cup Tomato | | |
| 1 medium Drumstick | | |
Method
Cut all the vegetables into 1/2 inch pieces.
Pressure cook the moong dal for about 2-3 whistles.
Assemble all the vegetables in a heavy bottom pot and add enough water to soak them.
Heat the pot and add turmeric, salt and kuzhambu powder.
Bring it to a boil and let it continue to cook on medium heat until all the vegetables are well cooked and tender. (About 15-20 minutes)
Mash the moong dal and add it to the vegetables and bring to another boil and turn off the heat.
In a small skillet, heat 3 tsp ghee and splutter the mustard seeds.
Add the Jeera and Urad Dal and roast until dark.
Add the Hing, curry leaves and ginger and saute for a minute on low.
Add this tadka to the stew.
Garnish with fresh Dhania and serve with Rice/Roti.