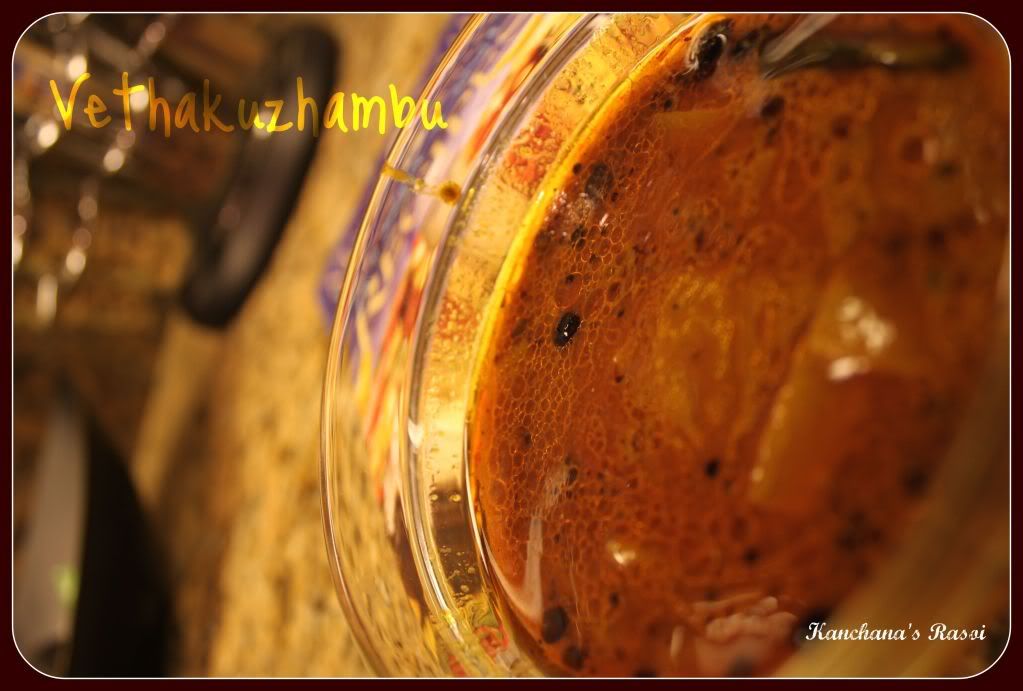 Ingredients
| Main | Spices | Generic |
| --- | --- | --- |
| 1 cup Cut Vegetables | 1 tsp Mustard Seeds | Til Oil |
| | 2 tbsp Chana Dal | Salt |
| | 1 tbsp Sundakkai Vathal | |
| | 1 tbsp Manathakkali Vathal | |
| | 4-6 Curry leaves | |
| | Tamarind | |
| | 2 tbsp Vathal Kuzhambu Powder | |
| | 1 tsp Turmeric | |
| | 1 pinch Hing | |
| | 1 tbsp Jaggery | |
Method
This recipe can be made with or without vegetables.
Vegetables to use could be Onion/Squash/Bhindi/Baingan/Carrots…
If using Tamarind paste, dissolve 1 tbsp in 4 cups water.
If using fresh tamarind, make a concentrated extract of a lemon sized ball in 4 cups water.
In a heavy bottom pan, heat 3-5 tsp Til oil and splutter the mustard seeds.
Add the Chana Dal and roast until light golden.
Add the vathals and fry until they are dark.
Add the curry leaves, hing and vegetables if using any.
Add the tamarind water, turmeric, kuzhambu powder, jaggery and salt.
Bring this to a boil.
Let it boil for 2-3 minutes and then let it simmer for about 15-20 minutes or until it is reduced to 2/3rds.
Add another 2-3 tsp of Til Oil, cook for a couple more minutes and turn the heat off.
This can be stored in the fridge for upto 2 weeks.
Serve with Hot Rice/Dosa/Idli..